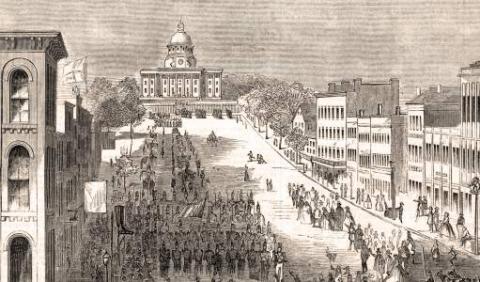 Annotations
MONTGOMERY, city, seat of justice of Montgomery co., and the capital of the state of Alabama, having succeeded Tuscaloosa, as the seat of government, in 1847, has a central situation in Montgomery county, 220 miles northeast of Mobile, and 839 miles from Washington. It is the centre of an extensive trade in cotton, which is brought from the surrounding country to this point, the head of steamboat navigation on Alabama river. It contains the usual number of public buildings.

The Montgomery and West Point and the Lagrange railroads, unite the city to Atlanta, on the route of the Georgia railroad, and to the intermediate points.

The population in 1840, was 2,179; in 1850, 11,937.
Fanning's Illustrated Gazetteer of the United States.... (New York: Phelps, Fanning & Co., 1853), 233.
Latitude
32.377327168549584
Longitude
-86.29406959738714