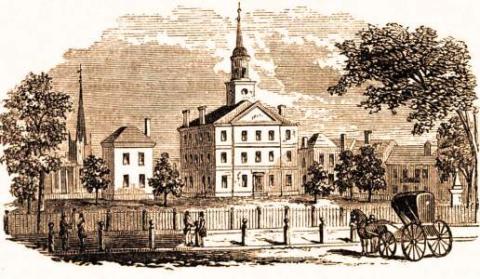 Annotations
LEXINGTON, city, seat of justice of Fayette co., Ky., 24 ms. S. E. of Frankfort, situated on a branch of Elkhorn river, 70 miles from Louisville, and 515 from Washington. It is the oldest town in the state, and was formerly the capital. It has many handsome, paved streets. Main street being 75 feet wide, and 1 1/2 miles in length. The noble shade-trees that border the streets, give it a pleasing appearance. A large public square adorns the centre of the place, which is surrounded by stately private mansions. The public buildings are, a courthouse, Masonic hall, jail, state lunatic asylum, and the halls of the Transylvania university, together with several churches and academies, and the hospitality and intelligence of its citizens, and render it a desirable southern residence.

The population in 1820, was 5,283; in 1830, 6,408; in 1840, 6,984; in 1850, ---.
Fanning's Illustrated Gazetteer of the United States.... (New York: Phelps, Fanning & Co., 1853), 343.
Latitude
38.04354819964875
Longitude
-84.49820300443504